March 11th, 2012
Today a quick post on how to use Git to push your code to a remote location. I found this very useful when developing sites. Welcome to post #100.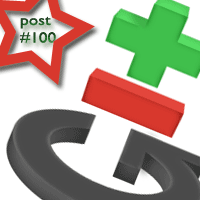 I learned this from Using Git to manage a web site and after using this technique at 2 websites, I found this needed to have a dedicated post. The article explains it very well, but this note taking helps me to remember and implement it well. And you guys might find this quite useful :)
Note that it is highly recommended to set up a key-based login to your remote server, see this useful SSH reference for more details.
Steps from local git to remote mirror
On the local server you begin with your project and commits, see my first Git post how to get started if you are not familiar with Git.
On the remote node you start by creating a new repository (assuming ~/repositories as the home of all code repos):

$ cd ~/repositories && mkdir repository.git
$ cd repository.git
$ git init --bare 

You will see something like: Initialized empty Git repository in /home/user/repository.git/ and it means you have a new repository to mirror the local one to.
Make a destination directory where your code will be copied to:

$ mkdir /home/user/target_dir 

Create the following script that will take care to check out the latest copy in the source target directory (/home/user/target_dir) when you commit to the remote server (with $ git commit aliasName ; see towards the end of this post ... )

$ vi hooks/post-receive

Enter the following:

# #!/bin/sh
# GIT_WORK_TREE=/home/user/target_dir git checkout -f

And give the script execution permissions with:

$ chmod +x hooks/post-receive

You can find a quick wrapper script at Github.
Back on your localhost:
Define a name of the remote mirror (replacing aliasName, user, domain.com and repository.git with your stuff ):

$ git remote add aliasName ssh://[email protected]/home/user/repositories/repository.git

Push the code to remote location, creating a new "branch" master there, the hooks/post-receive script causes the source code to be copied to /home/user/target_dir you defined earlier. So here we are pushing master to aliasName:

$ git push aliasName +master:refs/heads/master 

Following updates are easy:
After local committing with: $ git add . ; $ git commit -m "message" , you push your code to your remote mirror with: $ git push aliasName
---
---